Investing.com
by Eli Wright
Following yesterday's initial shock to markets caused by Trump's surprise victory, traders seemed relieved that the election was finally over. Despite an enormous amount of uncertainty remaining as to how his presidency will affect global markets as well as the US's and the world's economy, financial exchanges appear to have recovered from yesterday's fear induced volatility – at least for now.
In Japan, the Nikkei closed 6.7% higher, at 17,344.42; the Hang Seng ended the day up 2.12%, at 22,891; and the Shanghai Composite, probably the least optimistic market given Trump's stance on China, also managed to rise 1.33%, to 3,171.28.
In Europe, the FTSE, DAX, and Stoxx 50 are all up 1-1.5% since today's open.

The S&P 500, Dow, and NASDAQ all ended yesterday about 1% higher. The Dow in particular was an astonishing recovery, closing just a fraction off its all-time record close, after plummeting as much as 800 points lower in pre-market futures trading yesterday. In pre-market trading the S&P 500 is currently up 0.7%, the Dow is up 0.8% and the NASDAQ is up 0.9%.
The VIX is down 3.9% to 13.82, way below the 22.5 high it reached last week.
Forex
The Trump presidency does not appear to be an obstacle to a Fed rate hike in December; expectations are back to over 80%. Additionally, as risk-on trading returned, the flight to safe havens eased. One of the biggest gainers has been the US dollar.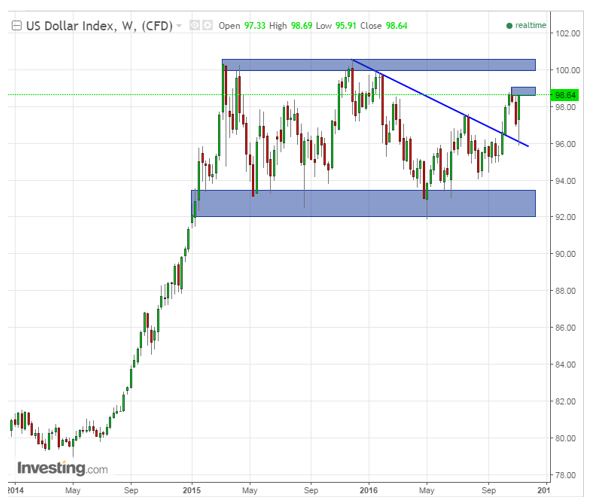 USDX Weekly 2014-2016
In the chart above we can see a bullish flag forming in the US Dollar Index, signaling a move higher. Currently at 98.6, earlier resistance levels have already been tested and breached, paving the way for a rise to the next level of support at 100-100.50.
The New Zealand dollar has struggled after the Reserve Bank of New Zealand cut rates last night to 1.75%, down from 2.0%.
Commodities
Though risk sentiment returned to the market yesterday, gold remains up 0.6% at $1,280.75, likely because there remain a great many unknowns for markets and the US.
Silver continues its upward trajectory, up 2% to $18.76.
Copper price moved sharply higher, up 4.6% to $2.57 on expectations that Trump could unleash a flood of infrastructure spending once he takes office. Nevertheless, some analysts believe copper remains in a long-term downtrend.
Crude oil appears to like Trump's intentions to grow US energy independence. Crude is holding steady at $45.25. Brent is up 0.8% to $46.73.
Stocks
Historically, US equities have performed better under Democrats than Republicans. According to S&P Capital IQ, since 1945, the average annual S&P 500 Index gain under Democrats was 9.7% compared to 6.7% under Republicans. Still, under a Trump administration, certain sectors, and stocks could benefit.
Heightened market volatility could help banks whose revenues come from trading. Additionally, if Trump moves against Dodd-Frank regulations, banks could benefit as well. Indeed, Goldman Sachs (NYSE:GS) shares rose 5.82% yesterday, to $192.51; JP Morgan (NYSE:JPM) rose 4.6% to $73.26; and Morgan Stanley (NYSE:MS) jumped 7.13%, up to $36.53.
The president-elect could also prove to be a boon to US oil and gas companies as he seeks to make the US energy-independent. Yesterday, ConocoPhillips (NYSE:COP) advanced 3.14% to $45.72; Anadarko (NYSE:APC) moved up 2.48% to $61.21; Hess (NYSE:HES) gained 2.62% to $48.99; Devon Energy (NYSE:DVN) rose 3.88% to $43.61; and Noble Energy (NYSE:NBL) edge 0.45% higher, to $37.59.
Bricks-and-mortar Retail has been badly damaged by online behemoths and Trump has promised the "largest tax cuts since Ronald Reagan," which could spur consumer discretionary spending and perhaps conventional retail shopping. Wal-Mart (NYSE:WMT) gained 1.92% yesterday, up to $71.13, while Costco (NASDAQ:COST) ticked higher 0.48% to $146.79. On the other hand, e-tail giant Amazon (NASDAQ:AMZN), a company that Trump has accused of having "a huge anti-trust" problem, saw shares drop 2%.
Trump's tough stance on illegal immigration might have had something to do with shares of private prisons rising. Geo Group (NYSE:GEO) got a 20% boost yesterday, while Corrections Corporation of America (NYSE:CXW) jumped a whopping 43%.
Military stocks were also bullish, with defense contractor Raytheon (NYSE:RTN) showing an 8.8% up tick, while both Lockheed Martin (NYSE:LMT) and General Dynamics (NYSE:GD) rose 6% and 5.4% respectively.
The Healthcare sector has perhaps been the biggest gainer for stocks thus far, in the wake of Trump's victory. Despite the uncertainty Trump's repeal of Obamacare might cause, the industry feared a Clinton presidency more due to her vocal criticism of drug pricing.
The S&P 500 Health Care Index gained about 3.5% and theDow Jones Health Care Index gained 3.41%. A variety of healthcare sector stocks, from drug store chains to insurers to Big Pharma all saw marked gains. CVS Caremark (NYSE:CVS) and Aetna (NYSE:AET) both gained about 4%; Roche (OTC:RHHBY) and Amgen (NASDAQ:AMGN) rose approximately 5.5%; Cardinal Health (NYSE:CAH) and Merck (NYSE:MRK) both moved up by 6%; Pfizer (NYSE:PFE) jumped 6.93%; and McKesson (NYSE:MCK) gained a sizeable 8.5%. UnitedHealth (NYSE:UNH) was one of the only large healthcare stocks to have a bad day, down 0.72%.
Tobacco took a hit yesterday as voters in California approved tax increases on cigarettes. Philip Morris (NYSE:PM), Altria (NYSE:MO) and British American Tobacco (NYSE:BTI) were all down, 3.6%, 2.78% and 1.8% respectively.
In contrast, marijuana had a good day. California, Massachusetts, Nevada, and Maine all voted to legalize recreational weed, while medical marijuana became legal in North Dakota, Arkansas, Florida and Montana. Marijuana stocks rallied as a result: Scotts Miracle-Gro (NYSE:SMG) moved up 1.4%; GW Pharmaceuticals (NASDAQ:GWPH) saw a significant 6% gain, while Pineapple Express (OTC:PNPL) jumped 34%.
Earnings reports later today include:
Disney (NYSE:DIS) reports Q4 earnings after the market close, with expected EPS of $1.16 on revenue of $13.52B.
NVIDIA (NASDAQ:NVDA) will release Q3 earnings after the closing bell, with expected EPS of $0.56 on $1.69 billion in revenues.